Gail E. Bellefontaine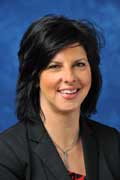 The Herbert H. Landy Insurance Agency of Needham, MA, congratulates Gail E. Bellefontaine, Vice President of Finance and Operations, on her 25th year of service to the company.
Gail joined the Landy Agency in March of 1987 following a position with the Sun Financial Group. She originally worked in the company's accounting department and now manages both the accounting and processing departments for the Landy Agency. Her responsibilities are varied and include all the financial and human resource obligations of the company. She was promoted to Vice President of Operations and Finance in 2007.
Please join us in congratulating Gail for achieving this important milestone in her 25 years of dedicated service to and accomplishments on behalf of the Herbert H. Landy Insurance Agency.
Tweet This Post